Introduction
The E2000 Standard Tuned Propulsion System is a multirotor propulsion system designed for multirotor aircrafts with a payload of 1.8-2.5kg/rotor. Its airtight structure (IP56 protection rating, IEC standard 60529) keeps out liquid and foreign objects, protecting the inner parts of the motor against dust and liquid corrosion, and making it ideal for industrial applications and professional photography in rugged environments.
The brand new 6010 motor uses a centrifugal fan to enhance performance while maintaining compactness. Air vents located along the sides and elevated base of the motor ensure that air flows through the structure efficiently for maximum heat dissipation. Reinforced blades and the perfect aerodynamic design give the Z-Blade 21-inch foldable propellers ultra-high strength and rigidity.
The 1240S Smart ESC uses a sinusoidal drive powered by advanced algorithms to allow for a responsive motor drive with precise control. Like most DJI products, the ESC firmware can be updated, ensuring that the E2000 Standard is constantly refined.
Specification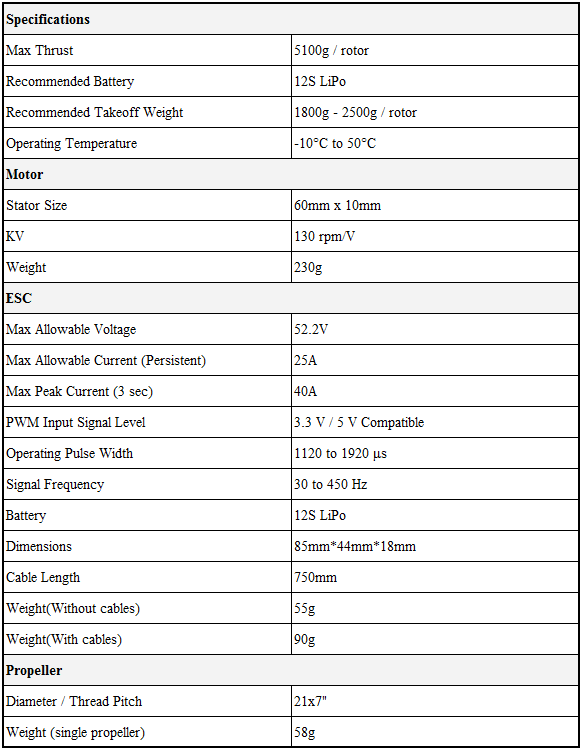 Your Purchase includes
1 x DJI 6010 Motor
1 x DJI 1240S ESC
1 x DJI 2170 CW Propeller
1 x Motor Screws (M3*8)
1 x Propeller Blade Screws (M4*13.3 Hex)
1 x Propeller Cover Screws (M3*9 Hex)

Photos