Introduction
Eagle Eye-30IE-360 is the new version of Eagle Eye-30IE, there are 2 features for this new 30X EO/IR zoom camera: the first one is its 360 degree rotation, that means the gimbal has unlimited Yaw angle, which is very useful in missions like security and surveillance. Imagine you are tracking a fast moving target, the tracking will possibly be lost if the gimbal reaches its Yaw angle limit. With the 360 rotation gimbal, this problem will no longer exist. The second feature for Eagle Eye-30IE-360 is that it is equipped with an Ethernet video out. In this case, IP video downlink can be used for video transmission. Anyway, if it happens that an HDMI video downlink is needed, then no problem, you can use an IP over HDMI converter board.
There will be 2 modes for video out and video recored.
Mode 1: 1080P/30fps video out, and 720P/30fps video recorded.
Mode 2: 720P/30fps video out, and 1080P/30fps video recorded.
Specification
30X zoom camera(SONY FCB EV-7520)

Sensor

1/2.8 inch 2.13MP CMOS SENSOR

Video output

1080P/720P 30fps Ethernet

Video recorded

1080P/720P 30fps H.264 or MP4

Focal length

30X optical focal zoom, 4.3-129mm

Digital zoom

12X(360X with optical zoom)

FOV

1080p mode: 63.7°(wide end) ~ 2.3°(tele end)

720p mode: 63.7°(wide end) ~ 2.3°(tele end)

SD: 47.8°(wide end) ~ 1.7°(tele end)

Wide Dynamic

Up to 105dB

Auto focus

Less than 1S

Low illumination

[email protected]

Aperture

Φ 16.0

Vertical Roll / Horizon Mirror/Static

Support

AWB/AGC/ACC/

Support

Thermal camera

Lens

25mm

Working system

Un-cooled long wave (8μm

~

14μm)

Detector pixels

640×480

Pixel size

17μm

Focusing

Athermalizing

FOV

Horizontal: 24.6°

Vertical: 18.5°

Diagonal: 30.4°

Detective Distance (Man: 1.8x0.5m)

735 meters

Recognize Distance (Man: 1.8x0.5m)

184 meters

Verified Distance (Man: 1.8x0.5m)

92 meters

Detective Distance (Car: 4.2x1.8m)

2255 meters

Recognize Distance (Car: 4.2x1.8m)

564 meters

Verified Distance (Car: 4.2x1.8m)

282 meters

Emissivity correction

Emissivity 0.01~1 adjustable

NETD

≤50mK(@25℃)

MRTD

≤650mK(@Characteristic frequency

)

Image enhancement

Automatically adjusts image brightness and contrast

Color palette

White hot, pseudo color

Automatic non-uniformity

Yes(with or without shutter)

correctionfunction

Digital zoom

1x, 2x, 3x, and 4x

Time synchronization function

Yes

Gimbal system

Input voltage

3S-4S

Rotate range

Pitch: ±90° Roll: ±45° Yaw: Unlimited

Angle amount of jitter

Pitch and roll: ±0.02° Yaw:±0.03°

Control interface

PWM, S.Bus, serial command and software control via Ethernet

Working Current

Static current: 330mA(@12V)




Dynamic current: 450mA(@12V)

Mechanical feature

Total weight (gimbal and camera)

1200g

Working temperature

-25° ~ +60°
Download Eagle Eye-30IE-360 Datasheet
Dimension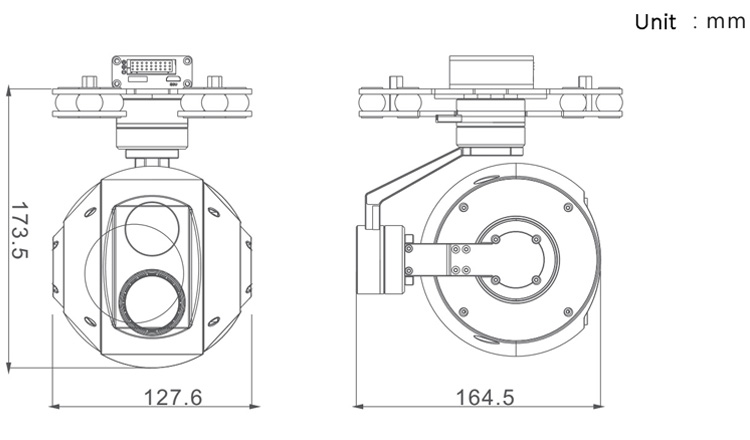 Wiring Hub Drawing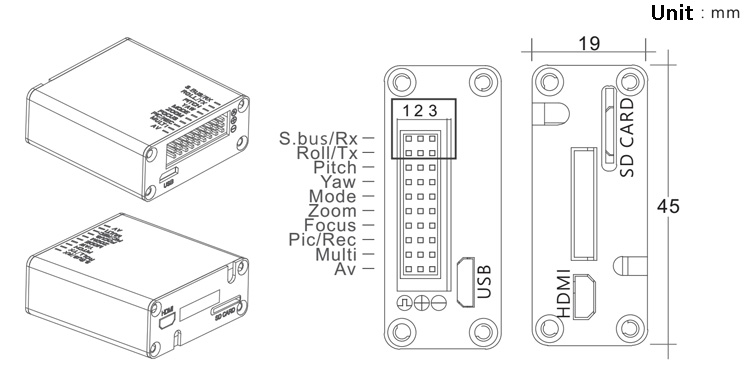 Your Purchase Includes
1 x Eagle Eye-30IE 30X zoom camera and thermal camera
1 x Eagle Eye-30IE 3-axis high stabilized gimbal system
Product Photos