Introduction
Sky Eye-12NLT is one 1080P 12X zoom camera designed for multirotors to conduct night vision mission like inspection, surveillance, search, and rescue, due to its powerful night vision capability. It consists of one 1080P 12X stellar zoom camera and an IR laser illuminator served as an auxiliary IR light for the zoom camera. The 12X stellar zoom camera features super low illumination: 0.0005lux/F1.5(white/black), is able to spot the object as far as 500 meters in the night with the help of IR laser illuminator.
Zoomable IR laser
IR laser of Sky Eye-12NLT is zoomable, which will enable the 12X stellar zoom camera to see target more clearly.
Auto object tracking
With onboard object tracking module, Sky Eye-12NLT is able to track static or moving target easily, keeping it in the center of the frame.
Geo-referencing
GPS coordinates from a Pixhawk flight controller will be led to the gimbal and you can read it from photo EXIF file.
Dual video output
There are 2 video streaming outputs: HDMI and Ethernet, which will give you the flexibility to choose the video transmitter for your drone.
Easy for integration
Sky Eye-12NLT comes with an amazing advantage that the gimbal can not only be controlled via PWM signal,but also serial command.Also gimbal data(like Yaw/Pitch/Roll angle,zoom status etc) can be obtained by sending serial command to the gimbal via its serial port, which is really useful for precise gimbal control and system integration.
Clean and simple wiring
Sky Eye-12NLT provides an outstanding wiring hub design for RC receiver and video output port(AV and HDMI), which makes wiring pretty easily. Also the gimbal offers 2 smart speed modes: FAST speed and LOW speed. Fast speed mode is used for small zooming range,which makes the gimbal control sensitive and quick. LOW speed mode is used for large zoom range, will enable you to target the object more accurately.
Gimbal quick-release mechanism
This feature is avalable for this camera, please check HERE to get more information.
Features
1) Weight:1265grams
2) 1/1.9 inch 2MP CMOS sensor
3) 12X optical zoom,12X digital zoom, HDMI 1080P 30fps and Ethernet video output for video downlink
4) 1080P/30 H.264 video recorded for on-board TF card
5) Super low illumination:0.005lux@F1.5(colorful), 0.0005lux@F1.5(white/black)
6) IR laser illuminator cover range:over 500 meters
7) Auto object track and geotagging
8) PWM control and serial command control
9) Convenient wiring hub for RC receiver and video output(AV and HDMI)
10) 3-aixs high stabilized gimbal system
11) Adjustable control speed: SLOW speed for large zoom range,accurate.FAST speed for small zoom range,sensitive and quick.
12) One key back to center
Video
System Specification
12X stellar zoom camera

Sensor

1/1.9" inch 2MP CMOS SENSOR

Video Output

HDMI 1080P/30

Focal length

12X optical focal zoom, 7.0-84mm

12X digital zoom

Aperture

F1.5-F1.9

Wide Dynamic

Up to 105dB

Auto focus

Less than 1S

Super low illumination

0.005lux@F1.5(full color), 0.0005lux@F1.5(white/black)

Aperture

Φ 16.0

ICR Filter

Support; 3 modes: Open, Close, Auto

Gimbal system

Input voltage

3S-4S

Rotate range

Pitch: ±90° Roll: ±45° Yaw: ±150°

Angle amount of jitter

Pitch and roll: ±0.02° Yaw: ±0.03°

Control interface

PWM and serial command

Working Current

Static current: 330mA(@12V)




Dynamic current: 450mA(@12V)

IR laser illuminator

Cover range

Over 500 meters

Wave length

850±10nm(940nm, 980nm)

IR Light angle

Wide: 70° Cover range: over 40 meters




Tele: 2.0° Cover range: over 500 meters

Zoom speed

2 seconds(from wide angle to tele angle)

IR laser power consumption

Less than 11W

Working voltage

DC12V

±10%

Control method

PWM/TTL command control

Communication protocol

Pelco_D protocol(Baud rate: 9600bps by default)

Communication method

UART_TTL

Working temperature

-20℃~+80℃

Storage temperature

-40℃~+80℃
Download Sky Eye-12NLT Datasheet
Dimension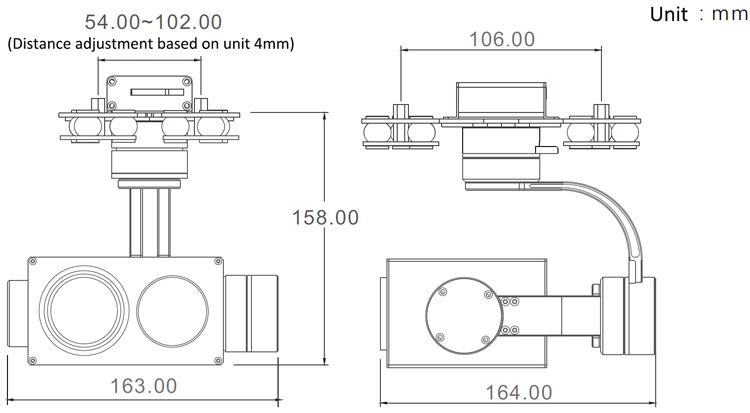 Wiring Hub Drawing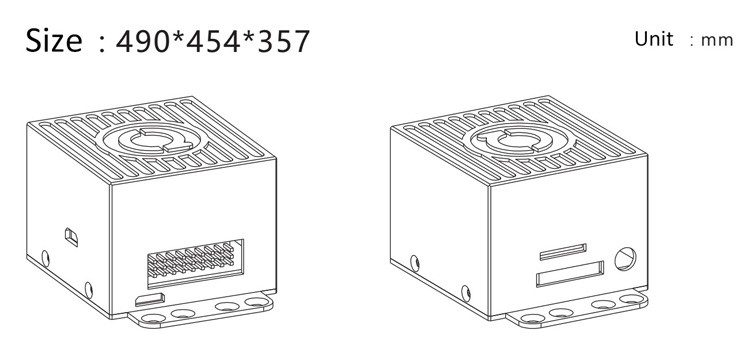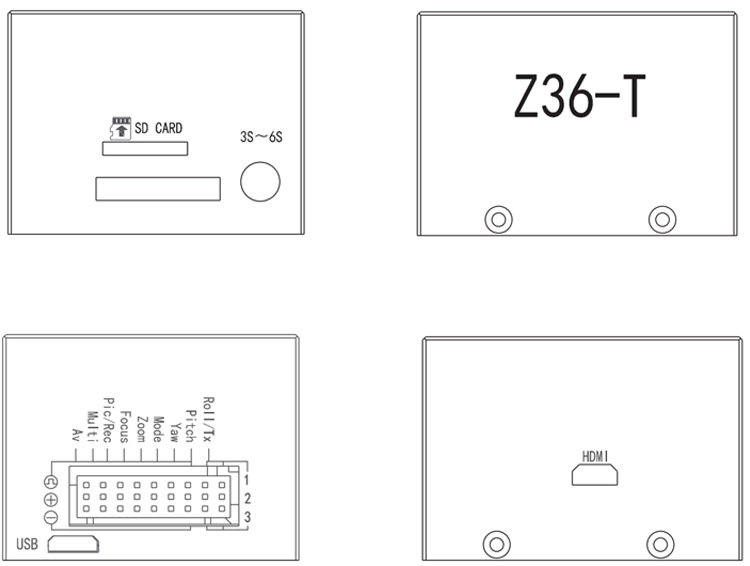 Your Purchase Includes
1 x Sky Eye-12NLT 1080P 12X optical zoom camera with IR laser illuminator
1 x Sky Eye-12NLT 3-axis high stabilized gimbal system
Photos