Introduction
The Sky Eye-25HZ is a ruggedized, high performance 25X electro-optical zoom camera payload designed for demanding applications that require high quality and precise images, like inspection for building, power lines, tower, pipelines etc. High-performance 3-axis gimbal is using advanced FOC(field-oriented control) motor control technology which will enable you to get a 0.01 degree incredible precise control, so the gimbal will give you crystal clear and stable video footage.
25.9 megapixels still image
Still image resolution of Sky Eye-25HZ reaches up to 25.9 megapixel, click HERE to check building inspection images.
Compact and lightweight
Sky Eye-25HZ weighs as little as 782g to help you meet your payload weight allowance
Easy for integration
Sky Eye-25HZ can not only be controlled via PWM signal, but also serial command. Also gimbal status(like Yaw/Pitch angle,zoom position etc) can be obtained by sending serial command to the gimbal via its serial port, which is really useful for precise gimbal control and system integration.
Clean and simple wiring
Sky Eye-25HZ comes with one wiring hub for RC receiver and video output port, which makes wiring pretty easy and clean. Also the gimbal offers 2 smart speed modes: FAST speed and LOW speed.Fast speed mode is used for small zooming range,which makes the gimbal control sensitive and quick. LOW speed mode is used for large zoom range, will enable you to target the object more accurately.
Gimbal quick-release mechanism
This feature is avalable for this camera, please check HERE to get more information.
System Specification
25X zoom camera (Panasonic HC-VX980)

Sensor

1/2.3 inch CMOS SENSOR

Still Image Resolution

25.9 Megapixels (16:9)

Recording Resolution

4K: 3840x2160/30p; FHD: 1080/60p

Focal Length

f=4.08-81.6mm(F1.8-F3.6)

Optical Zoom

25X zoom (4K recording mode)

20X optical zoom(Photo mode)

40X zoom(FHD recording mode)

FOV

Horizontal: 53.2°(Wide end) ~ 5.65°(Tele end)

Vertical: 39.8°(wide end) ~ 4.2°(tele end)

Focus: 66.6°(wide end) ~ 7.2°(tele end)

Video format

MPEG-4

Recording Shutter

1/3 ~1/8000

Photo format

JPEG

Photo Shutter

1/2 ~1/2000

Gimbal system

Input voltage

3S-4S

Rotate range

Pitch: ±90° Roll: ±45° Yaw: ±150°

Angle amount of jitter

Pitch and roll:±0.02° Yaw:±0.03°

Control interface

PWM, S.Bus, serial command, and software control via Ethernet

Working Current

Static current:240mA(@12V)




Dynamic current:320mA(@12V)

Mechanical feature

Total weight (gimbal and camera)

782g

Working temperature

-25° ~ +60°
Download Sky Eye-25HZ Datasheet
Dimension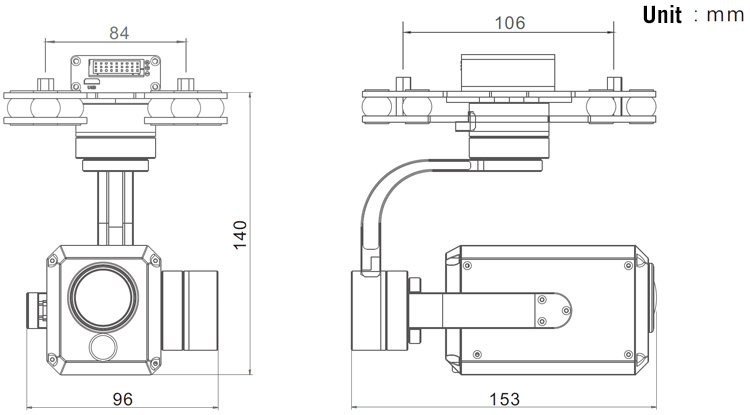 Your Purchase Includes
1 x Sky Eye-25HZ 25X zoom camera
1 x Sky Eye-25HZ 3-axis high stabilized gimbal system
Product Photos