INTRODUCTION
Sky Eye-30HZ is a gimbal designed for 30X zoom camera for drone aerial inspection,surveillance,rescue and research mission,which can be easily installed on most multirotor platforms.It consists of 1080P 30X optical zooming camera and a 3-axis high stabilized gimbal,which is able to take and record 1080P 30fps video to an on board TF card, giving you a stable eye in the sky that can be controlled via drone pilot or a secondary individual allowing for an overhead view that can cover a large amount of ground quickly and effectively. The 30X zoom function will allow you to remain at a distance yet zoom closely in on anything that requires your attention.
Compact and lightweight
Sky Eye-30HZ weighs as little as 848g to help you meet your payload weight allowance.
Auto object tracking
One big feature for Sky Eye-30HZ is that it can be equipped with an Auto Object Track Module(AOTM), which will enable the pilot to track static/moving objects very easily.Further more,the AOTM is only 40 grams,do not add too much weight on the drone. How it works:zoom in and put the object you want to track in the screen,move the cursor to the object and lock it via controller,and then the camera will track it automatically.
Easy for integration
Sky Eye-30HZ comes with an amazing advantage that the gimbal can not only be controlled via PWM signal,but also serial command.Also gimbal data(like Yaw/Pitch/Roll angle,zoom status etc) can be obtained by sending serial command to the gimbal via its serial port, which is really useful for precise gimbal control and system integration.
Clean and simple wiring
Sky Eye-30HZ provides an outstanding wiring hub design for RC receiver and video output port(AV and HDMI),which makes wiring pretty easily. Also the gimbal offers 2 smart speed modes:FAST speed and LOW speed.Fast speed mode is used for small zooming range,which makes the gimbal control sensitive and quick.LOW speed mode is used for large zoom range,will enable you to target the object more accurately.
2 Video out
Sky Eye-30HZ has two video output ports,HDMI(1920*1080*60fps ) and Analog,which makes it possible to use traditional analog 5.8G video downlink or HD video downlink. The photo/video/playback functions can be chosen by a 3-gear switch on your radio.
Gimbal quick-release mechanism
This feature is avalable for this camera, please check HERE to get more information.
System Specification
30X zoom camera

Sensor

1/3 inch 3MP CMOS SENSOR

Video Output

CVBS and 1080P/60 HDMI

Video recorded

1080P/30 MP4

Focal length

30X optical focal zoom, 4.5-135mm

Wide Dynamic

Up to 105dB

FOV

Horizontal: 54.8°(Wide end) ~ 3.4°(Tele end)

Vertical: 41°(wide end) ~ 2.5°(tele end)

Focus: 66.6°(wide end) ~ 7.2°(tele end)

Auto focus

Less than 1S

Low illumination

0.05lux@F1.6

Aperture

Φ 16.0

Vertical Roll / Horizon Mirror/Static

Support

AWB/AGC/ACC/

Support

Gimbal system

Input voltage

3S-4S

Rotate range

Pitch: ±90° Roll: ±45° Yaw: ±150°

Angle amount of jitter

Pitch and roll: ±0.02° Yaw: ±0.03°

Control interface

PWM, S.Bus and serial command

Working Current

Static current: 330mA(@12V)




Dynamic current: 450mA(@12V)

Mechanical feature

Total weight (gimbal and camera)

848g

Working temperature

-25° ~ +60°
Download Sky Eye-30HZ Datasheet
Dimension
WIRING HUB DRAWING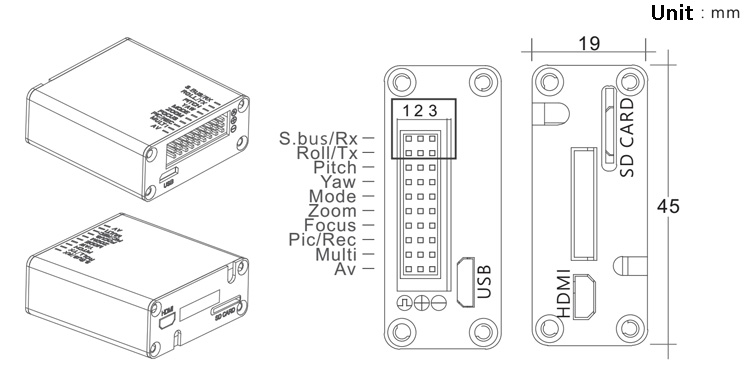 YOUR PURCHASE INCLUDES
1 x Sky Eye-30HZ 30X optical zoom camera
1 x Sky Eye-30HZ 3-axis high stabilized gimbal system
Related Products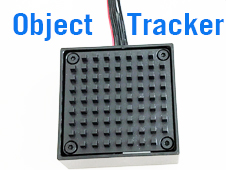 Product Photos