Introduction
Eagle Eye-30IE-U EO/IR thermal and 30X optical zoom visual imaging camera with 2-axis gyro-stabilized gimbal is specially designed to be used on fix wing plane and VTOL. The SONY 30X zoom camera provides 1080P 60FPS full HD video streaming and up to 360X zoom capability, which enables you to see every detail you need in the air even you are far away from the object. The thermal camera allows you to detect targets in the night or low visibility conditions and provides you with valuable information when you are carrying out missions like inspecting or monitoring objects. High-performance 2-axis gimbal is developed based on FOC(field-oriented control) technology, which will give you crystal clear video footage.
Compact and lightweight
The compact 1.2kg compact system is ideal for integration into UAV, fix wing and VTOL.
High-quality video sensor
Eagle Eye-30IE-U is using SONY FCB-EV7520 camera block, features anti-fog, video enhancement, and some other advanced features.
Auto object tracking
With onboard object tracking module, Eagle Eye-30IE-U is able to track static or moving target easily, keeping it in the center of the frame.
Continuous 360-degree rotation
The gimbal has continuous 360-degree rotation under standard HD-SDI output, which will enable the gimbal to track targets freely without any angle limit.
Geo-referencing
GPS coordinates from a Pixhawk flight controller will be led to the gimbal and you can read it from photo EXIF file.
Easy for integration
Eagle Eye-30IE-U comes with an amazing advantage that the gimbal can not only be controlled via PWM signal, but also serial command. Also, gimbal status(like Yaw/Pitch/Roll angle, zoom position, etc) can be obtained by sending serial command to the gimbal via its serial port, which is really useful for precise gimbal control and system integration.
Clean and simple wiring
Eagle Eye-30IE-U provides an outstanding wiring hub design for RC receiver and video output port, which makes wiring pretty easily. Also, the gimbal offers 2 smart speed modes: FAST speed and LOW speed. Fast speed mode is used for small zooming range, which makes the gimbal control sensitive and quick. LOW-speed mode is used for large zoom range, will enable you to target the object more accurately.
Gimbal quick-release mechanism
This feature is avalable for this camera, please check HERE to get more information.
Specification
30X zoom camera(SONY FCB EV-7520)

Sensor

1/2.8 inch 2.13MP CMOS SENSOR

Video output

1080P/60 HDMI, 720P/30 Ethernet

Video recorded

1080P/30 MP4

Focal length

30X optical focal zoom, 4.3-129mm

Digital zoom

12X(360X with optical zoom)

FOV

1080p mode: 63.7°(wide end) ~ 2.3°(tele end)

720p mode: 63.7°(wide end) ~ 2.3°(tele end)

SD: 47.8°(wide end) ~ 1.7°(tele end)

Wide Dynamic

Up to 105dB

Auto focus

Less than 1S

Low illumination

0.01lux@F1.6

Aperture

Φ 16.0

Vertical Roll / Horizon Mirror/Static

Support

AWB/AGC/ACC/

Support

Thermal camera

Lens

25mm

Working system

Un-cooled long wave (8μm

~

14μm)

Detector pixels

640×480

Pixel size

17μm

Focusing

Athermalizing

FOV

Horizontal: 24.6°

Vertical: 18.5°

Diagonal: 30.4°

Detective Distance (Man: 1.8x0.5m)

735 meters

Recognize Distance (Man: 1.8x0.5m)

184 meters

Verified Distance (Man: 1.8x0.5m)

92 meters

Detective Distance (Car: 4.2x1.8m)

2255 meters

Recognize Distance (Car: 4.2x1.8m)

564 meters

Verified Distance (Car: 4.2x1.8m)

282 meters

Emissivity correction

Emissivity 0.01~1 adjustable

NETD

≤50mK(@25℃)

MRTD

≤650mK(@Characteristic frequency

)

Image enhancement

Automatically adjusts image brightness and contrast

Color palette

White hot, pseudo color

Automatic non-uniformity

Yes(with or without shutter)

correctionfunction

Digital zoom

1x, 2x, 3x, and 4x

Time synchronization function

Yes

Gimbal system

Input voltage

3S-4S

Rotate range

Pitch: ±90° Yaw: unlimited

Angle amount of jitter

Pitch: ±0.02° Yaw:±0.03°

Control interface

PWM, S.Bus, serial command and software control via Ethernet

Working Current

Static current: 330mA(@12V)




Dynamic current: 450mA(@12V)

Mechanical feature

Total weight (gimbal and camera)

1200g

Working temperature

-25° ~ +60°
Download Eagle Eye-30IE-U Datasheet
Dimension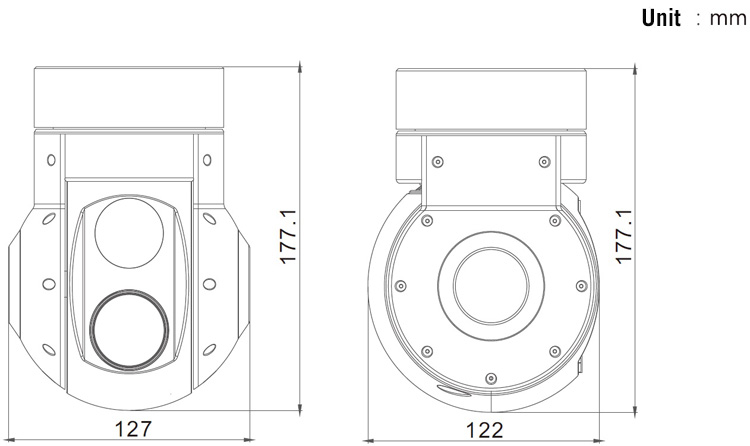 Wiring Hub Drawing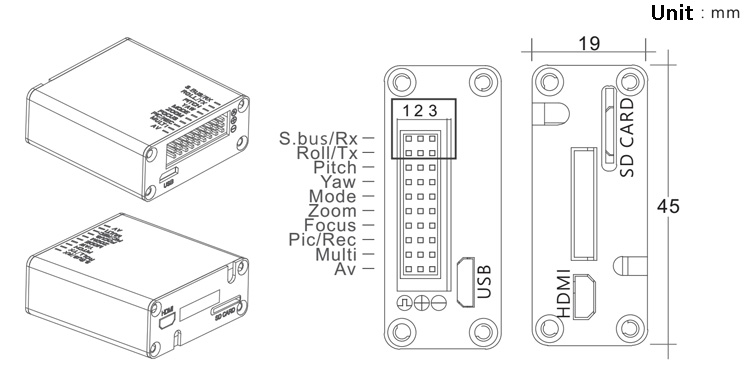 Your Purchase Includes
1 x 2-axis Eagle Eye-30IE-U 30X EO/IR dual sensor zoom camera
1 x SDI over HDMI converter box
1 x SDI cable
1 x HDMI cable
Product Photos