Introduction
Sky Eye-Duo Pro is a 3-axis gimbal specially designed for FLIR Duo Pro R thermal camera.It is using advanced FOC(field-oriented control) motor control technology which will enable you to get a 0.02 degree incredible precise control,so the gimbal will give you crystal clear and stable video footage in the air.Micro HDMI port and 10pin JST of the thermal camera have been fed to one wiring hub which will make the wiring pretty easy and clean.Further more,GPS data will be overlaid to photo/video from daylight sensor or thermal sensor,which is very useful in applications like rescue and search.Also video streaming from daylight/thermal sensor are mixed together and will be fed via HDMI port on the wiring hub and you can switch it freely via RC controller.
Plug and play
Sky Eye-Duo Pro gimbal is fully compatible with popular UAV products like DJI S1000 and Matrcie 600 multirotor platforms, DJI Lightbridge series video transmitters, Amimon Connex Full HD video link. All this together allows easy integration and operation of the gimbal with DJI and DIY solutions.
Gimbal quick-release mechanism
This feature is avalable for this camera, please check HERE to get more information.
Features
1) 400grams,light weight
2) PWM control and serial command control
3) GPS data will be overlaid to video/photo
4) Picture in Picture function
5) Convenient wiring hub for RC receiver and video output
6) 3-aixs high stabilized gimbal system based on FOC technology
7) Adjustable control speed: SLOW speed for large zoom range,accurate.FAST speed for small zoom range,sensitive and quick.
8) One key back to home position
Specification
Download Sky Eye-Duo Pro Datasheet
Your Purchase Includes
1 x Sky Eye-Duo Pro 3-Axis High Stabilized Gimbal(camera not included)
1 x Cable Cover Box
Dimension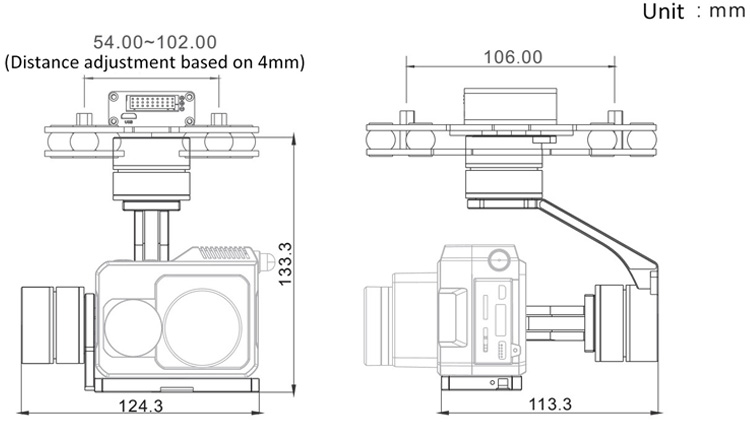 Wiring Hub Drawing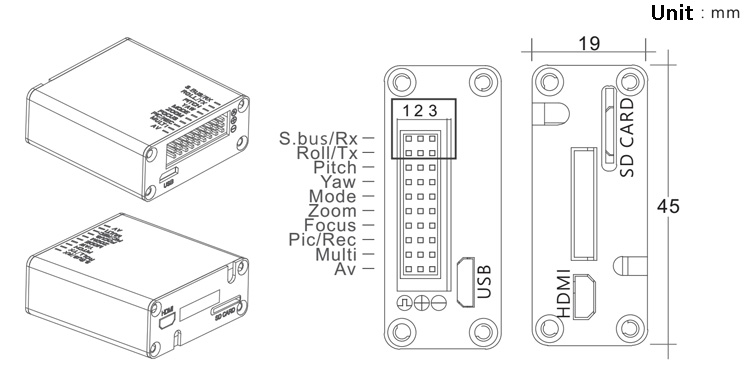 Photos